Post by UVA English Department research assistant Maggie Whalen.
Book Traces @ U.Va. recently discovered this early-20th century French children's book, Le Général Dourakine by Countess de Ségur, in the U.Va. Library Collection.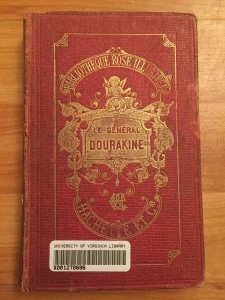 Opening it up, one finds an inscription and other verbal annotations in a young person's script.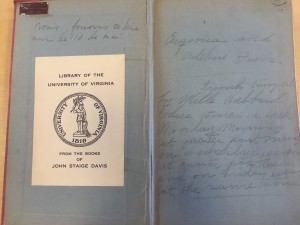 The inscription reveals that the book's owners were Eugenia (1896-1980) and Adeline (1894-?) Davis, pictured below.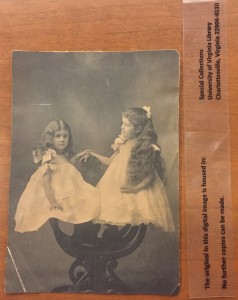 Dabney Family Photographs, Albert and Shirley Small Special Collections Library, University of Virginia.
At the time of the book's signing, Eugenia was 12 and Adeline was 14. The girls were the daughters of Volumnia (1868-1949) and John Staige Davis II (1872-1946), a professor in the University of Virginia School of Medicine and one of the first American practitioners of plastic surgery. The Davises are a prominent family in the history of both Charlottesville and the University. Eugenia and Adeline's grandfather, John Staige Davis I (1824-1885), also taught in the U.Va. medical department. Their great-grandfather, John A.G. Davis (1802-1840), was among the first students to graduate U.Va., where he went on to teach law. Of note to a University audience: John A.G. Davis is also the ill-fated protagonist of a frequently cited story that claims that the murder of a U.Va. professor by a student prompted the creation of the Honor Code. Although Davis was in fact fatally shot by a student, recent research has shown that the tale of the Honor Code's origin is apocryphal.
Below their names, one of the girls has written the schedule of their weekly French lessons (transcribed here for easier reading):
French taught by Mille. Hubbard three times a week, Monday Morning at quarter past nine, on Wednesday evening at quarter pas[t] three, and on Friday evening at the same time.
Above the bookplate on the opposite page, one of the girls has written: "Nous finions ce livre le 10 de mai," or: "We finished this book May 10."
A bit of digging on the history of the text itself, apparently assigned to the girls by their French tutor, reveals that Countess de Ségur was an incredibly popular French children's author at the turn of the 20th century. Indeed, the twenty books that she produced during her relatively short career, of which Le Général Dourakine was one, became the foundation of French children's literature. The Davis sisters' copy is a 1907 reprint by the original publisher. There are several other volumes of de Ségur's famous collection of novels, La Bibliotheque Rose Illustrée, on the shelves of U.Va.'s Alderman library, though this seems to be the only copy owned by the Davises.
Annotations by the same hand are present on the book's title page. Lightly penciled script reads: "Eugenia et Adeline Davis. La classe de Mille. Hubbard." The inscription appears to have been corrected, however, by a later, heavier hand. This revision reflects the French spelling of Eugenia: "Eugénie." The conjunction "et" is also retraced in darker pencil.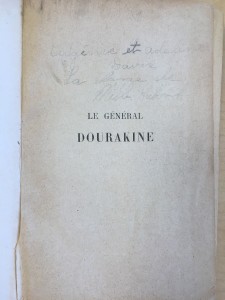 Letters in U.Va.'s Special Collections Library reveal that the Davises corresponded at length with a certain Eugénie Hubbard, suggesting that this family friend (also a prominent figure in the contemporary Charlottesville social scene) might have been the Mademoiselle to whom the book refers.
Verbal and nonverbal marginalia can be found on many of the book's 375 pages. Most markings take the form of paired slashes and light underscoring, perhaps demarcating reading assignments or noting important moments in the story. The occasional "E" (for Eugenia, perhaps) pops up as well. A cursive "Natasha," the name of one of the story's characters, also appears.
On the final page of the tale, the date of the girls' completion of the book, "May 10 1909," is repeated.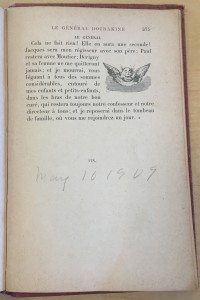 Perhaps most interesting, though, is the note on the book's rear flyleaf: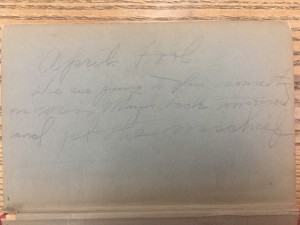 It reads: "April Fool. We are going to pin something on Miss Mary's back tomorrow and get the mischief." In this instance, the textbook seems to work as a platform for correspondence between scheming parties. One can easily imagine a young Eugenia or Adeline scribbling down this idea during a French lesson and sharing it with the her sister or perhaps another classmate.
Without any clues beyond "Miss Mary," it is a long-shot to attempt to identify the nominated victim of the April Fools' prank. A pair of documents available in the U.Va. Special Collections Library do, however, suggest one candidate.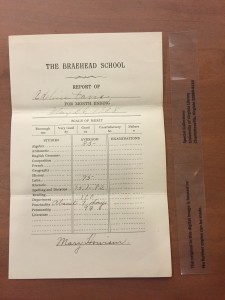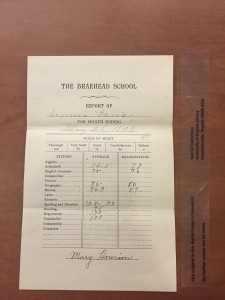 John Staige Davis Papers, Albert and Shirley Small Special Collections Library,
University of Virginia.
These 1908 and 1911 report cards of Adeline and Eugenia, respectively, are signed by one Mary Harrison of the Braehead School.
The Davis sisters' copy of Le Général Dourakine was donated to the U.Va. Library Collection by John Staige Davis in 1954.
For additional examples of user-modified volumes donated by John Staige Davis and currently in U.Va.'s circulating collection, check out these links:
http://www.booktraces.org/book-submission-poems-by-a-collegian/ http://www.booktraces.org/book-submission-lucile/
---
Sources
"Charlottesville Women Enroll in Auto School." Richmond Times-Dispatch [Richmond] 27 June 1918: 3. Library of Virginia. Web. 19 Nov. 2015.
Claire-Lise Malarte-Feldman. "La Comtesse de Ségur, a Witness of Her Time." Children's Literature Association Quarterly 20.3 (1995): 135-139. Project MUSE. Web. 20 Nov. 2015. <https://muse.jhu.edu/>.
Dabney family Photographs, Accession #9852-e, Special Collections, University of Virginia Library, Charlottesville, Va.
Davis, Nathaniel H. "Volumnia Hunley Davis." Geni. N.p., 19 Nov. 2014. Web. 20 Nov. 2015.
The Family Forest Descendants of Lady Joan Beaufort. N.p.: n.p., n.d. 3257. Google Books. Millisecond Publishing Company, Inc. Web. 19 Nov. 2015.
"History of Our Maryland Society for Plastic Surgeons." History of Our Maryland Society for Plastic Surgeons. The John Staige Davis Society, 2011. Web. 20 Nov. 2015.
"John S. Davis." Physician Price Fixing in 19th Century Virginia. University of Virginia, 2011. Web. 20 Nov. 2015.
Papers of John Staige Davis, Accession #3247, Special Collections Dept., University of Virginia Library, Charlottesville, Va.
Segur, Comtesse De. Le Général Dourakine. Paris: Hachette, 1907. Print.
Tyler, Lyon Gardiner. Men of Mark in Virginia: Ideals of American Life; a Collection of Biographies of the Leading Men in the State. Vol. 3. N.p.: Men of Mark, 1907. 109-10. Google Books. 12 June 2007. Web. 19 Nov. 2015.