NOTE: this post, originally published on October 23, has been expanded on November 11 with a continuation by research assistant Maggie Whalen.
Book Traces @ U.Va. recently found this 19th-century mechanical engineering handbook in the U.Va. Library collection.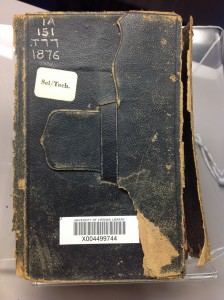 If you open the front cover, you find a flyleaf inscription hinting at the book's history and its meaning to the donor. The two inscriptions show that the book originally belonged to one R. B. S. Nicolson of Savannah, Georgia, who studied at the University of Virginia during the 1878-79 school term. It was later donated to the University of Virginia Library by the original owner's brother, John Nicolson, himself a U.Va. graduate.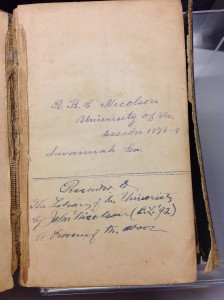 But if you look deeper in the book, you find the full story. The book was published with a quire of lined paper in the back, apparently meant for engineers to take notes or do calculations. The original owner left the lined paper blank, but his brother filled a page of it with this memorial annotation (transcribed below for easier reading):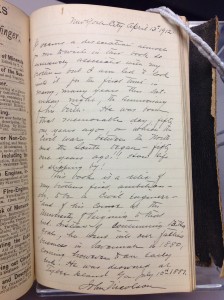 New York City April 13th 1912.

It seems a desecration almost for me to write in this book so exclusively associated with my brother–but I am led to look into it for the first time in many, many years this Saturday night, the anniversary of his birth. He was born that memorable day, fifty one years ago, on which the Civil War between the North and the South began–fifty one years ago!! How life is slipping by!

This book is a relic of my brothers first ambitions–viz, to be a civil engineer–and of his course at the University of Virginia to this end. Instead of continuing to this goal, he went into our father's business in Savannah in 1880, coming however to an early end. He was drowned at Tybee Island Ga. July 10th 1881.

John Nicolson
Intrigued, the Book Traces @ U.Va. team started digging.
Robert Beauregard S. Nicolson (1861-1881), the book's original owner, was born on April 13, 1861 at White Bluff, near Savannah, GA. He was the eldest son of John Nicolson Sr. (1828-1903), a successful plumber in the Savannah region, and Matilda Hall Nicolson (1832-1893). The day of Robert's birth marked the first military engagement of the American Civil War, as Union forces surrendered Fort Sumter to the Rebel army just up the Georgia coast.
It is not entirely clear whether John Nicolson Sr., then 34 years of age, subsequently joined the Rebel cause. However, Confederate records reveal that a "John Nicholson" (perhaps a misspelling of the family's surname) enlisted in the 47th Volunteer Infantry, which recruited from Chatham County, where the Nicolson family resided, in 1861.
On February 14, 1866, the war had come to a close and John Nicolson Jr., author of the book's memorial annotation, was born in Brooklyn, NY.
Older brother Robert attended the University of Virginia between 1877 and 1879, where he studied civil engineering. The 1877-1878 and 1878-1879 Catalogues of Students reveal that Robert took classes in chemistry, mathematics, mineralogy, geology, natural philosophy, and applied mathematics during his time at U.Va.. This text, Trautwine's Pocket Book, was among the "Books of Reference" required of students in the Civil Engineering program during the 1878-1879 academic year. Robert's time in Charlottesville was, however, cut short. In 1880, he returned to Savannah to work at his father's recently expanded plumbing company.
On July 10, 1881, just one year after returning home, Robert drowned at Tybee Island, a popular resort destination near Savannah. A July 13 article in The Macon Telegraph and Messenger details the incident:
The particulars of the sad calamity are as follows: There was a fine surf on, and a large number of persons were in bathing, young Nicolson being out a considerable distance from the others. The tide was running out at the time, and, having ventured beyond the life line, he was rapidly carried off. Realizing his danger, he struggled manfully to regain the life post, but was unsuccessful in consequence of the undertow, and was compelled to cry for help. A young man…heard his cry and gallantly responded.
The story continues, revealing that the young man's heroic efforts were ultimately fruitless. Robert's body was swept out to sea and discovered the following evening, a quarter-mile down the beach from where he was last seen. Robert was buried in the Nicolson family's plot at Bonaventure Cemetery in Savannah.
Years later, John Jr. followed his deceased brother's path to the University of Virginia, where he studied law between 1890 and 1892. The 1891 and 1892 editions of Corks and Curls, U.Va.'s yearbook, reveal that John was a member of the Temperance Union and the Georgia Association, a center on the Law School Football Team, a brother of the Beta Chapter of Phi Theta Psi fraternity, and the Vice President and President of the Young Men's Christian Association. In 1892, John graduated with a Bachelors of Law, returned to Savannah, and was admitted to the Georgia bar. After practicing law in Savannah for several years, John relocated to his hometown, New York City, in 1897. It is from New York that John eventually inscribed the 1912 remembrance of his brother, Robert, on what would have been his 51st birthday.
Sources
Corks and Curls Yearbook. Charlottesville: U of Virginia, 1891. Print.
Corks and Curls Yearbook. Charlottesville: U of Virginia, 1892. Print.
"Drowned in the Surf." The Macon Telegraph and Messenger [Macon] 13 July 1881: 3. America's Historical Newspapers. Web. 9 Nov. 2015.
"Fort Sumter Surrenders." History.com. A&E Television Networks, n.d. Web. 09 Nov. 2015.
Nicolson, John. Sanitary and Heating Age. New York: Sanitary and Heating, 1894. 56. Google Books. University of Michigan, 15 Apr. 2011. Web. 9 Nov. 2015.
Smith, Candace. "Robert B.S. "Beaury" Nicolson." Find A Grave. N.p., 15 July 2009. Web. 09 Nov. 2015.
Trautwine, John C. The Civil Engineer's Pocket-book. 10th ed. Philadelphia: Claxton, 1876. Print.
United States. National Park Service. "Soldier Details: Nicholson, John." National Parks Service. U.S. Department of the Interior, 09 Nov. 2015. Web. 09 Nov. 2015.
Who's Who in New York City and State. N.p.: L.R. Hamersly, 1911. 704. Google Books. Harvard University, 11 Jan. 2008. Web. 09 Nov. 2015.